Follow SeekFreaks on:
"Physical therapy means services provided by a qualified physical therapist."[1]
Yes, SeekFreaks, that is how IDEA defines physical therapy. No wonder questions abound about the role of PTs in the school setting. The vagueness of the definition opens up PT's role up for various interpretation. However, I like to see the glass as half full — this definition allows us as a profession to help define our contributions in enhancing a student with disabilities' educational experience. This article will try to describe the role of physical therapy within the context of IDEA and the most current literature in school-based physical therapy practice.
PT as a Related Service
Physical therapy is considered by IDEA as a related service. Related services are "developmental, corrective, and other supportive services as are required to assist a child with a disability to benefit from special education."1 This description is what differentiates PT services in the educational and the medical settings. PT in a medical setting assists the client in optimizing function in any areas deemed important by the client. PT in the educational setting focuses specifically on assisting the student in accessing and participating in their education.
PT as a Member of the IEP Team
How, you may ask, can physical therapy assist a student to benefit from education? This is a decision made by the IEP team. A physical therapist is one of many members of the IEP team. PTs provide evaluation and perspective from our discipline to the IEP team. The decision as to whether physical therapy is needed by the student is made by the IEP team who considers evaluation reports, student data and other input from its members. After the team establishes the student's educational goals, the team determines the services needed to address any of the set goals, which may or may not include PT. McEwen (2009) reminds us that in addition to academics, educational benefit includes any school function that the IEP team decides is essential for the student's educational experience.[2]
PT, Areas of School Function and the Least Restrictive Environment
The School Function Assessment[3] is a good reference to identify the areas of school function that a therapist may impact. Part I describes 6 areas of participation including: Classroom, Transportation, Transition, Bathroom, Mealtime and Recess/Playground, while Part III describes specific tasks that occur within those areas. It would be well worth the time to review the content of SFA Part III and identify which tasks and areas fall within the expertise and license of a physical therapist. These may include, among others, Travel, Maintaining and Changing Positions, Recreational Movement, Up/Down Stairs.
A big lesson from reviewing the SFA is that mobility concerns occur throughout the student's school routine. This lesson, together with the concept of least restrictive environment, emphasizes that PT services are best provided in the student's natural environment and in a manner that minimizes their separation from their academics and peers. In effect, the whole school is the PT's "clinic", not an isolated room. In addition, opportunities for practice should not be limited to the "PT session," but rather should be maximized by creatively building them in to the student's regular school routine. A PT can collaborate with educational staff to afford daily opportunities for practice. For example, strengthening may be promoted by movement routines led by the teacher for 10 minutes twice a day, or paraprofessionals (teacher assistant) may be trained to practice walking with the student in between classes.
Beyond the IEP
School based PTs are a member of the school community and as such their responsibilities go beyond evaluation and provision of PT services. Responsibilities may include:
Participation in various school teams such as the assistive technology team, the Response to Intervention (RtI) team, the preschool assessment team or other teams as determined by the school
Collaboration with teachers and other school personnel in promoting wellness and learning of students with or without disabilities
Consultation with parent/guardians to optimize their opportunities for practice and improvement at home via home or community activity programs
Liaison to community-based resources to enhance the student's participation in the community and access to healthcare and other benefits
Provision and maintenance of assistive technology (AT), including designing programs for use of AT
Advocacy for the student's needs within the school and in the community
Documentation that includes encounter attendance, correspondence and others
Conclusion
All of the above leads us to conclude that school-based PTs take on many roles that are represented by this chart: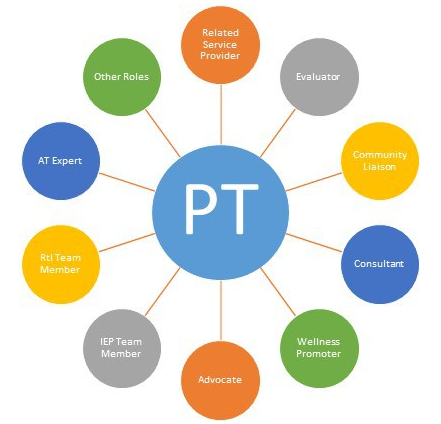 Therefore, school-based physical therapy is not for therapists who enjoy working in isolation.
Collaboration with various school teams is essential. So are consultations with parents/guardians, teachers and other individuals.
Goals are not owned by the physical therapist, but by the student, as established with other members of the IEP team.
Interventions are provided, not in a separate "PT" room, but in school areas where the student specifically needs to develop their skills.
If you believe that team effort leads to success and interventions are made meaningful by performing them where the activities naturally occur, you will surely thrive as a school-based therapist.
SeekFreaks – don't forget to vote below and comment on the topic.
~~~~~~~~~~~ 0 ~~~~~~~~~~
References
[1] Public Law 108–446, Individuals with Disabilities Education Improvement Act of 2004, 118 STAT. 2647–2808. Available at: http://www.copyright.gov/legislation/pl108-446.pdf.
[2] Mcwen IR. Deciding who should receive physical therapy under IDEA. In: McEwen IR, ed. Providing Physical Therapy Services under Parts B & C of the Individuals with Disabilities Education Act (IDEA). Richmond, VA: American Physical Therapy Association; 2009:37-48.
[3] Coster W, Deeney T, Haltiwanger J, Haley S. School Function Assessment User's Manual. San Antonio, TX: The Psychological Corporation; 1998.
Suggested Readings on the Roles of School-based PT
APTA. Physical therapy for educational benefit. Sect Pediatr APTA. 2014.http://pediatricapta.org/includes/fact-sheets/pdfs/15%20PT%20for%20Educational%20Benefit.pdf
APTA. Performance appraisal of school-based physical therapist: the link to student outcomes. http://pediatricapta.org/includes/fact-sheets/pdfs/15%20PT%20Performance%20Appraisal.pdf
Effgen SK, Chiarello L, Milbourne SA. Updated competencies for physical therapists working in schools. Pediatr Phys Ther. 2007;19(4):266-274.
McEwen IR. ed. Providing Physical Therapy Services under Parts B & C of the Individuals with Disabilities Education Act (IDEA). Vol Richmond, VA: American Physical Therapy Association; 2009:13-27.
Your state and/or local school district''s Guideline for School-based PT Practice
~~~~~~~~~~~ 0 ~~~~~~~~~~
Freakishly Fast Poll
Which school areas do you often find yourself working in? (check top 3)
~~~~~~~~~~~ 0 ~~~~~~~~~~
Seeking Your Views
Writing this just reminded me of the many roles we undertake. What do you do in your schools that was not covered above? Any roles that were not mentioned?
Which school personnel do you often find most helpful when maximizing opportunities for practice?
Leave your answers and comments below.
~~~~~~~~~~~ 0 ~~~~~~~~~~
Readers of this article, also read these:
The 4 Pillars of School-based PT Assessment
Response to Intervention, Multiple Tier Systems of Support and PT
10 Handy Academy of Pediatric Physical Therapy Fact Sheets
Article Review: Role of PT in Promoting Lifelong Fitness
Follow SeekFreaks on:
Like what you read? Share the SeekFreaking goodness...