Follow SeekFreaks on:
SeekFreaks – brace yourselves…you are about to encounter a wagon load of acronyms. Persevere!
IDEA: A History
Only two OT, PT and SLP practice settings are mandated by law: Early intervention and educational settings (aka public schools). OT, PT and SLP are some of the many related services that public schools are required to provide in order to educate all students. The law that made public education a right for all students was the Education for All Handicapped Children Act which is now known as the Individuals with Disability Education Act (IDEA).
Before 1975, the majority of the almost 4 million children with disabilities in America were denied access to a public education.1 The authors of IDEA relied on a federal study that found 60 percent of these children were excluded entirely from public schools.2 The remaining children with disabilities were either placed in inadequate, segregated classrooms or in regular classrooms without meaningful support.
Spurred by the civil rights movement and the Brown v. the Board of Education decision, parents of children with disabilities turned to the courts for help. The state and local obligation to educate children with disabilities appropriately was established by two U.S. District Court cases. In Pennsylvania Association for Retarded Children (PARC) v. Pennsylvania (PA, 1971) and Mills v. Board of Education (DC, 1972), the courts interpreted the equal protection guarantee of the 14th Amendment to establish the right of children with disabilities to a free and appropriate public education (FAPE) in the least restrictive environment (LRE).
IDEA Timeline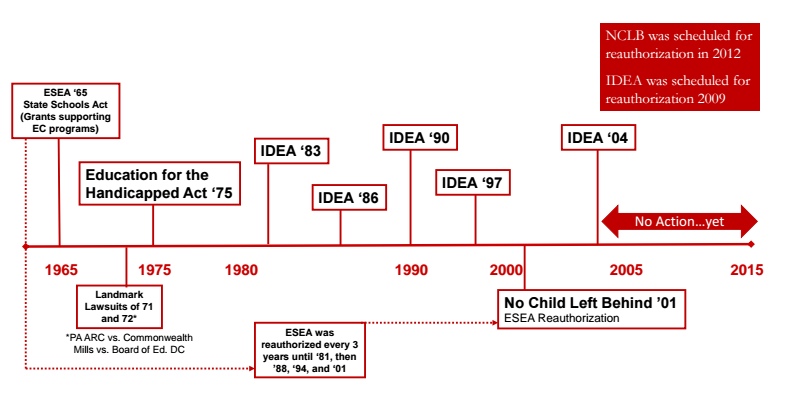 By 1975, more than 30 states had enacted legislation that guaranteed children with disabilities the right to a free, appropriate public education in the least restrictive environment.3 These state laws and subsequent court decisions placed a new, heavy fiscal burden on state and local school districts to provide the required programs, supports and services. To respond and assist states and local school systems with these financial demands, Congress passed the Education for All Handicapped Children Act, P.L. 94-142 (EHA) in 1975. Amendments to EHA (P.L. 99-199) in 1983 supported transition services from high school to adult life. In 1986, EHA was amended (PL 99-457) to expand programs to include children with disabilities from birth to three.  In 1990 EHA changed to the Individuals with Disabilities Education Act, P.L. 101-476 (IDEA).  Revision of IDEA in 1997 established 14 as the age to begin transition planning and provided details about transition planning.  In 2004, IDEA was modified to improve consistency with No Child Left Behind legislation (NCLB).4  IDEA was renamed the Individuals with Disabilities Education Improvement Act (IDEIA) but is still most frequently referred to as IDEA.
Primary Features of IDEA
IDEA has six primary features that convey the intent of the law:
Individualized Education Program (IEP) = a special, individualized program to meet a student's educationally relevant needs. This program is developed through consensus of an IEP team.
Free and Appropriate Public Education (FAPE) = there can be no charge or costs for educational services and the education must be appropriate to the individual student.
Least Restrictive Environment (LRE) = the student will be educated in general education unless his or her educational needs cannot be met in general education. IDEA is intended to afford students with disability every opportunity to participate in the school day with peers without disability.
Appropriate Evaluation = Evaluation plans are discussed and implemented to be comprehensive assessments of student's strengths and needs related to the school day.
Parent and Teacher Participation = Parents, the student (whenever possible), general education teachers and special education teachers are required and pivotal members of IEP teams.
Procedural Safeguards = the law spells out due process protections, as well as parent and LEA rights.
If any school receives federal funds, they must comply with all the features of IDEA outlined above. (SeekFreaks – FYI, this is why private schools are not required to adhere to IDEA and charter schools are…)
Other Key Aspects of IDEA
There are also other key aspects of IDEA that are legislatively required and critical to meet student needs:
Protecting Educational/Personally Identifiable Information = information from education records or that could identify a student may not be shared or released without informed consent of the parent or legal guardian.
Transition Services = services provided to afford student a smooth transition to life after leaving school with meaningful engagement in work, further education, community participation and living as independently as possible.
Discipline = discipline cannot be meted out if the behavior or infraction is a manifestation of the student's disability.
Eligibility Considerations
There are three criteria IEP teams consider when determining if a student requires/is eligible for special education and related services:
The student must have a disability,
The disability must negatively impact their education, and
The student must require specialized instruction in order to benefit from their special education program.
Once a student is determined eligible by the IEP team for special education, they are also eligible for all related services (including OT, PT & Speech) UNLESS your state has established specific criteria for eligibility in state policy or regulation. In the absence of specified criteria, the need for OT, PT & Speech as related services is determined by the IEP team through discussion of student performance data and consensus decision.
It was clear from the onset of the law that medical experts would be needed by students with disabilities. Teachers require the support of such medical experts to meet the educational needs of their students. OTs, PTs and SLPs are some of such experts and are included under IDEA as related services that can help the student benefit from their education. Do you want to read more about this. Go the next article "Role of School-based Physical Therapy."
SeekFreaks – You made it! You finished the whole article… a little dry but hopefully a helpful background. However, this is a two-way street! Read on below after the references to participate in our Freakishly Fast Poll and comment on our Seeking Your Views questions so we can learn from each other.
~~~~~~~~~~ 0 ~~~~~~~~~~
References:
New America Foundation, Education Policy Program, Federal Funding (January 13, 2007).  Retrieved April 20, 2008 from: http://www.newamerica.net/programs/education_policy/federal_education_budget_project/idea/federal_funding
Herz, E.J. (2007).  CRS Report for Congress: Medicaid and Schools.  Library of Congress, Order Code RS22397.
121st Cong. Rec. 19, 487-91 (June 18, 1975).
Office of Special Education and Rehabilitation Services (2008).  Individuals with Disabilities Education Act, 2004 Reauthorization.  Washington, D.C.  Retrieved April 20, 2008 from:  

http://www.ed.gov/offices/OSERS/Policy/IDEA/the_law.html

.
~~~~~~~~~~ 0 ~~~~~~~~~~
Freakishly Fast Poll
Do you know idea.ed.gov will let you search specific terms and pull up all the occurrences in IDEA?
~~~~~~~~~~ 0 ~~~~~~~~~~
Seeking Your Views
How has IDEA affected your practice?
Which parts of IDEA would you like to see improved?
~~~~~~~~~~ 0 ~~~~~~~~~~
Readers of this article, also read these:
Call to Action: Full Funding of IDEA
Summer Reading List for New School-based OTs, PTs and SLPs
Late Summer Reading List for Seasoned School-based OTs, PTs and SLPs
Response to Intervention, Multiple Tier Systems of Support and PT 
Follow SeekFreaks on:
Like what you read? Share the SeekFreaking goodness...