Follow SeekFreaks on:
This week, we continue our goal of starting the year right by promoting movement in our schools. As we have learned in the CDC article on physical activity and academics, movement needs to happen everyday, for a total of 60 minutes a day. This cannot be achieved by the school-based PT alone. To succeed, we need to recruit those who spend the most time with our students – our school teachers! So, we created our first article written for teachers. We have developed 2 tools. The first one is a guide for educators on the benefits of physical activity. The second is a select collection of online resources for classroom movement activities.
A Guide for Educators: Physical Activity Improves Academic Performance
We created the SeekFreaks infographic above, "A Guide for Educators: Physical Therapy Improves Academic Performance." It fits perfect when printed on a letter size paper so that you can share it easily with teachers , administrators and other school staff that you work with. You may choose to email it too, if you prefer.
Based on the CDC study we tackled last week,  the top portion of the guide lists the benefits of movement to a child's brain, as well as, academic behaviors and achievement. The lower portion contains suggestions on how to promote physical activity in our schools based on the lessons learned from the same CDC study. After handing this out to your teachers and gaining their buy-in, you are ready for the second tool to promote movement…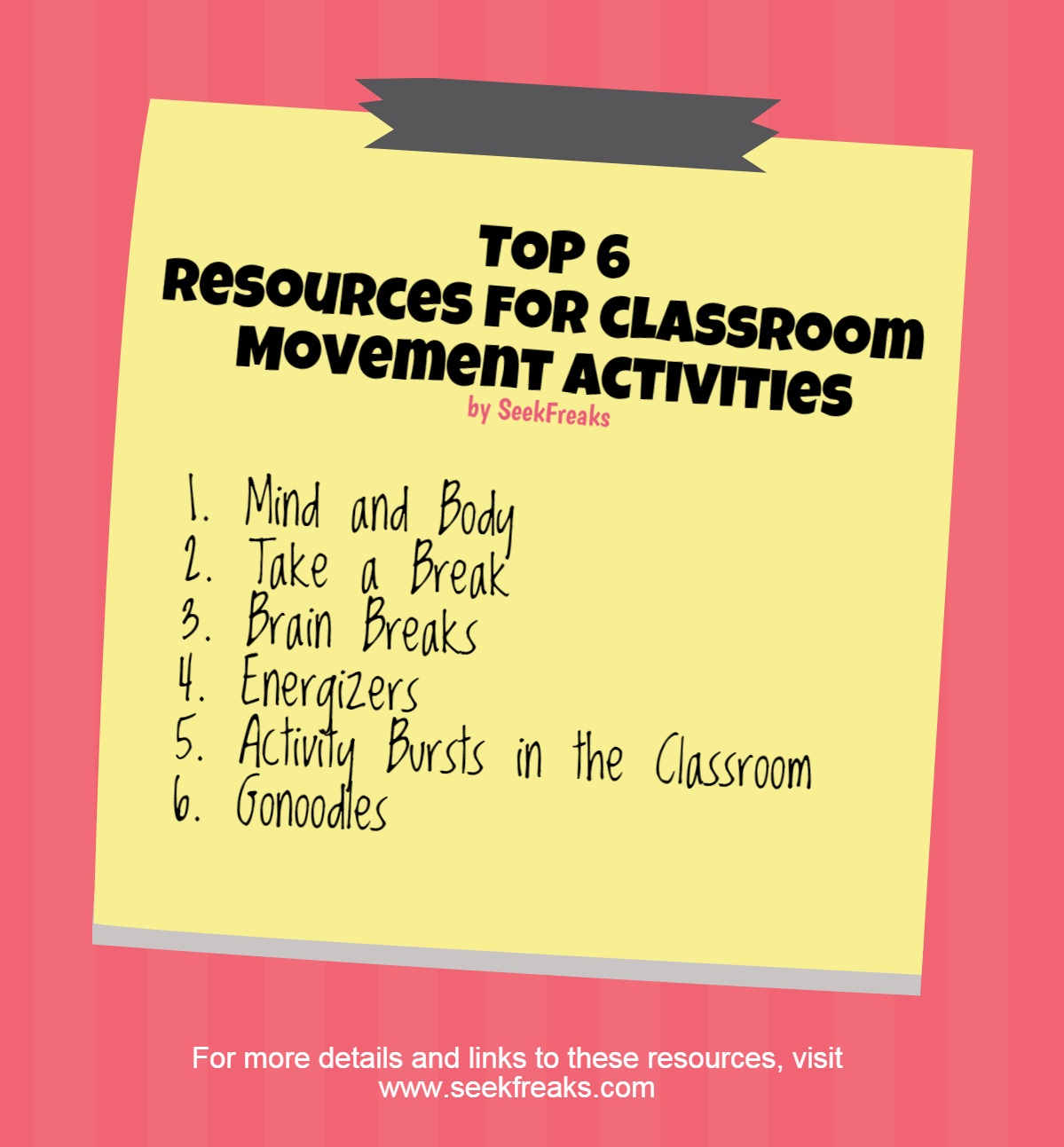 Top 6 Resources for Classroom Movement Activities
Some teachers may be concerned that they do not know fitness enough to come up with movement activities for the classroom. It would be a relief for them to know that resources for classroom movement activities abound online. We will describe 6 resources that include multiple activities for different grade levels. As an added bonus, they are all available for free! You can download activities from the first 5. The last one consist of videos that can be played directly on a Smartboard. 
Here are some suggestions when using any of these resources:
Focus on fun, instead of competition

– Some activities involve competition. However, students with disabilities may lose motivation if they do not succeed in completing the activities as much as their peers. Modify the exercises to focus on the fun and movement aspect. Where competition is really necessary, make it a team game so the students will learn teamwork and collaboration.
Don't penalize the student by asking them to sit out an activity

– Some activities penalize students who come up with the wrong answers by asking them to sit down. This limits their opportunity for movement. Modify the game to minimize such exclusion. For example, a student who misses the question can have a second chance, or performs a different, but equivalent, kind of exercise.  
In a similar way, do not reward a student by decreasing the amount of activity they have to complete

– Some activities involve rewards of less movement (i.e., the student can do less jumping jacks if they get the right answer). In addition to limiting movement opportunities, it may also teach the student that an exercise is a punishment, and, therefore, a bad thing that one needs to avoid. Make it inclusive, everybody has to do equivalent amounts of activity whether they win or not. Movement should be enjoyed by every student!
~~~~~~~~~~ 0 ~~~~~~~~~~
1. Mind and Body 
Webpage:

Mind and Body

Creator: Montana Office of Public Instruction

Content: over 40 movement activities for elementary school students

Grade Level: elementary school

Our Favorite Activities:

Fraction Action – combines math problems with exercises

Heart Beat – teach students how to find their pulse, count and multiply; and learn how exercises affect their pulse

The Human Calculator – a group/partner activity that reminds us of interactive piano mats
2. Take A Break
Webpage:

Take a Break

Creator: Colorado Education Initiatives

Content: created in response to the need for movement activity resources for older students. Focusing on 1-5 minute movement breaks, it also contains over 100 printable activity cards, videos of how to perform exercises correctly, and online resources.

Grade Level: 6th-12th Grades

Our Favorite Activities:

Mime Yourself – coordination activity with a partner

Rock-Paper-Scissors with Feet – who says you can't sweat playing rock-paper-scissors?

Deal or No Deal? – exercise your luck with this old school TV-game-turned movement activity
3. Brain Breaks    
Website:

Brain Breaks

Creator: Central Michigan University Educational Materials Center

Content: a "virtual activity booklet" of over 60 activities categorized by subject area (e.g., math, science, language arts). Most of the activities will not make you sweat; instead, they utilize easy physical movements to learn classroom concepts.

Grade Level: Pre-k to 6th Grade

Our Favorite Activities:

Social Butterfly – learn socialization and spelling in one easy game

Knots of People – group activity that requires interactive problem solving

Frozen Vocabulary – a simple activity to incorporate movement into vocabulary lessons
4. Energizers
Source:

Energizers

Creator: East Carolina University Activity Promotion Laboratory

Content: over 100 classroom activities that can be incorporated into the curriculum

Grade Level: elementary to middle school

Our Favorite Activities:

Classroom Fable – create sentences while performing exercises for each sentence part

We Are Orbiting – jog the various distances between each planet & the sun during science class

Where Is It? – jump N, S, E or W, depending on the direction a country is located  
5. Activity Bursts in the Classroom (ABC for FitnessTM)
Webpage:

Activity Bursts in the Classroom

Creator: Dr. David Katz

Content: created by a doctor to "convert wasted time in school into productive, health-promoting activity bursts." It includes tips for addressing potential challenges when introducing classroom movement activities, how to customize activity bursts, and over 40 activities

Grade Level: elementary

Our Favorite Activities:

The 12 Days of Movement – yes, you sing it to the tune of 12 days of Christmas

ABC for Fitness

TM

Chant – move with every letter of the alphabet

Geography Stretch – improve flexibility while learning directions
6. Gonoodles
Website:

Gonoodles.com

Creator: Go Noodle

Content: 1-5 minute online interactive video activities you can play in the classroom

Grade Level: elementary to middle school

Our Favorite Activities:

100 M Sprint – jog those excess energy off

Word Jam – learn by moving and have fun acting out vocabulary words

Boogie Down – yes, it means what it says
~~~~~~~~~~ 0 ~~~~~~~~~~
Note that many of these resources share similar exercises, so it may be enough to select 1 or 2 to use in one's classroom. We hope that by introducing physical activity in our schools that focus on fun and movement, instead of competition,  we are creating a foundation for our students to embrace lifelong fitness activities.
~~~~~~~~~~ 0 ~~~~~~~~~~
Readers of this article also read:
The 4 Cs of Letters of Medical Necessity that Gets Equipment Funded
Article Review: Role of PT in Promoting Lifelong Fitness
Article Review: Physical Activity Improves Academic Performance
10 Handy Academy of Pediatric Physical Therapy Fact Sheets
Follow SeekFreaks on:
Like what you read? Share the SeekFreaking goodness...