I heard from a couple of school-based therapists that this CSM does not have any school-based sessions. While this is due to the fact that no school-based sessions were submitted, there are several interesting sessions. Don't spend your time scouring the program, get to the beach! We did it for you…here are the sessions that will tempt the SeekFreaks!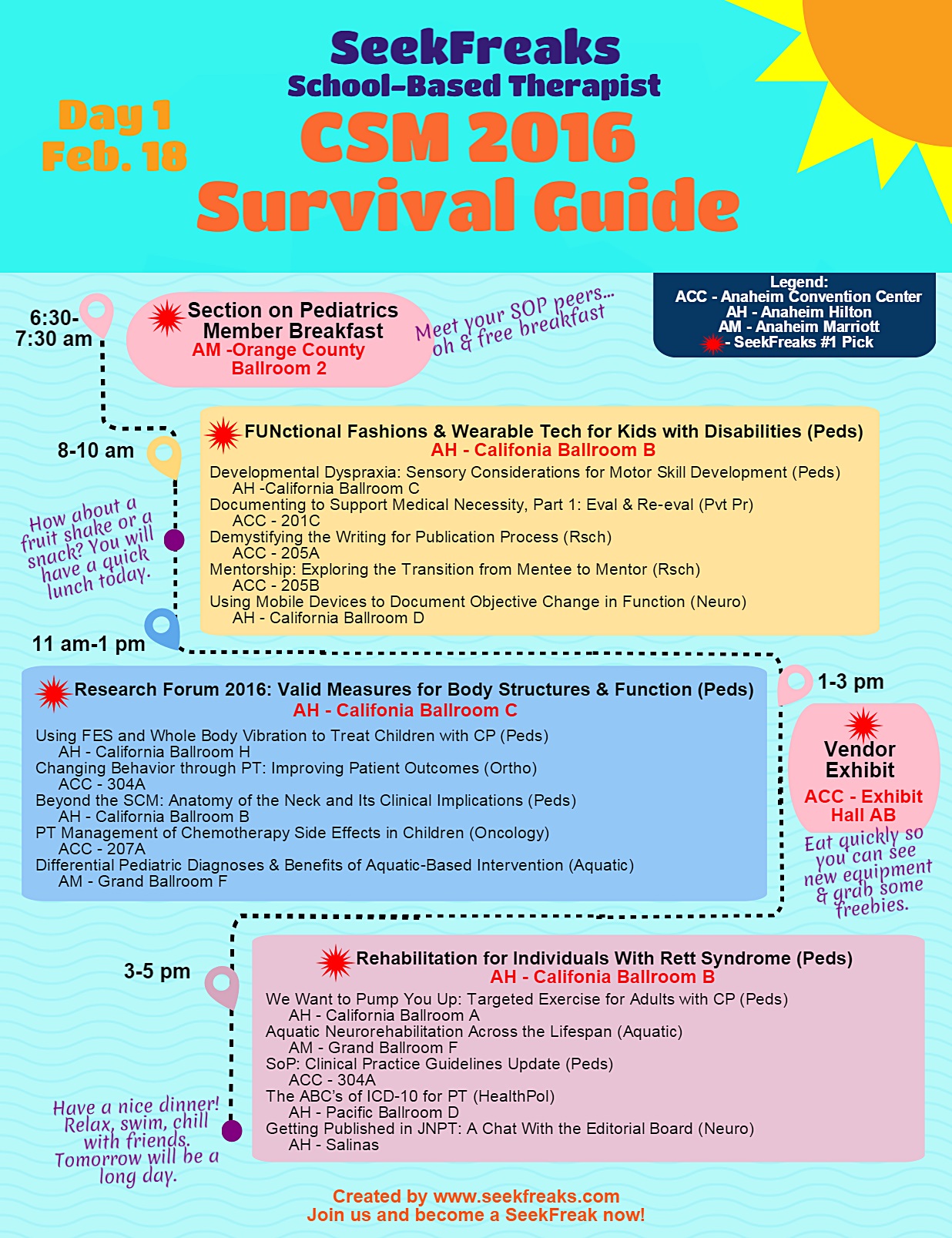 What are your professional goals?
Make your practice more evidence-based?
Start your own business?
Publish?
Improve your documentation?
Expand your awareness of cutting edge tech?
Update your interventions or knowledge of a specific diagnosis?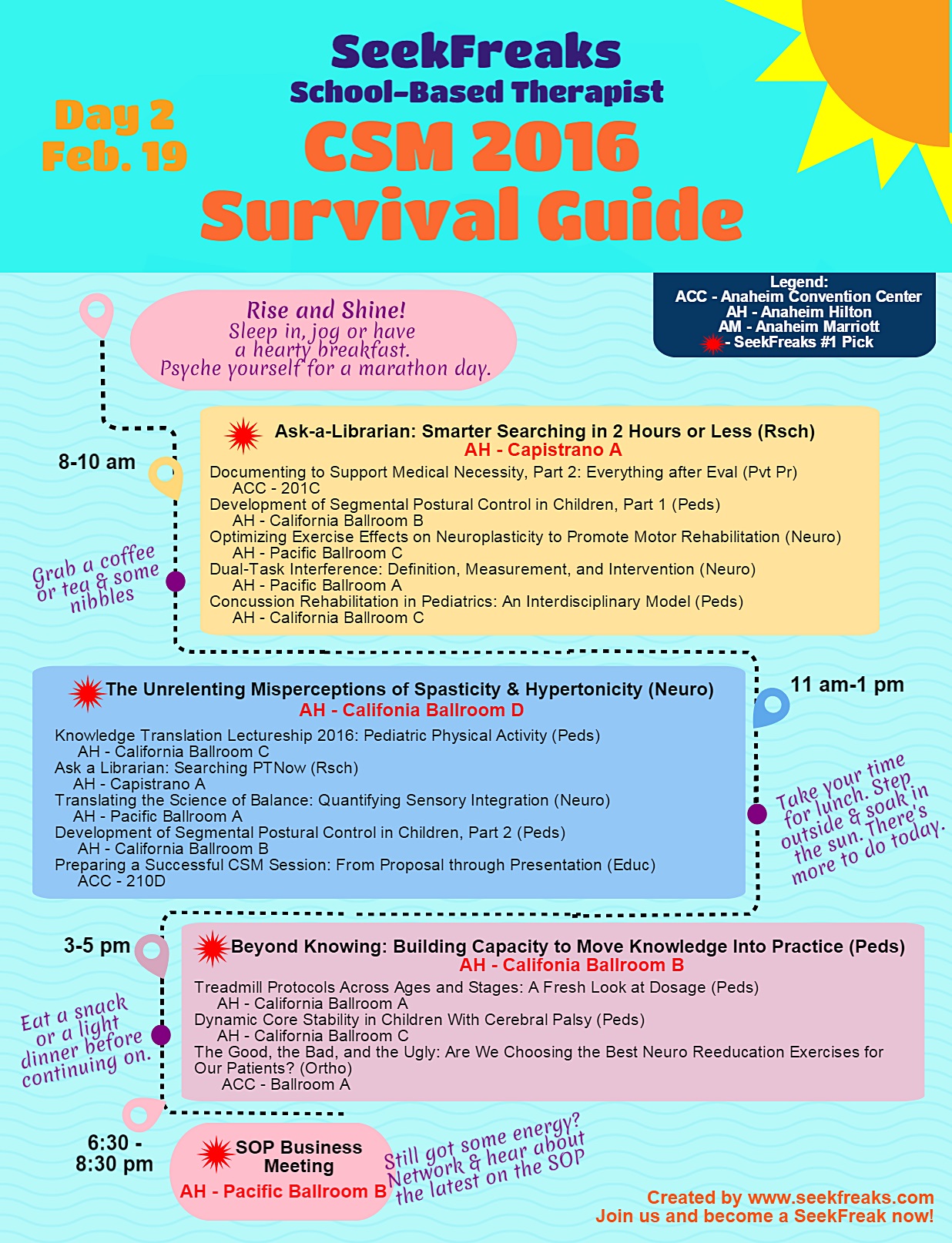 We created 3 Survival Guides – one for each day, from February 18-20. Download or print them. Why Survival Guide, you may ask?!
Three venues!!! The Anaheim Convention Center, Hilton and Marriott – so physically, there will be a lot of walking around (wear your best walking shoes!). We included the locations for each workshop on the Survival Guides so you can plan your days smoothly. If you want to limit your walking, you can also use the Survival Guides to choose workshops that are close to each other.
It can be mentally taxing – there are over a hundred workshops to choose from. Just choosing one to attend can be a chore. So we highlighted our SeekFreaks #1 Pick for each session, followed by other choices that  you may want to consider too, depending on your own professional needs. You will notice that the topics covered by our #1 Picks are varied, from research, tests & measures, seating, a specific diagnosis & others, to ensure a well-rounded learning experience. Anyway, who would want to listen to similar topics 3 days in a row?
We also suggest 3 meetings + the Exhibit Hall. These may make your days longer, but they are worth it if you have the extra energy. They are great opportunities to network, gain new friends, and be active in the Section on Pediatrics and the School-based Special Interest Group. To survive these long days, follow the Guide's eating and relaxation suggestions.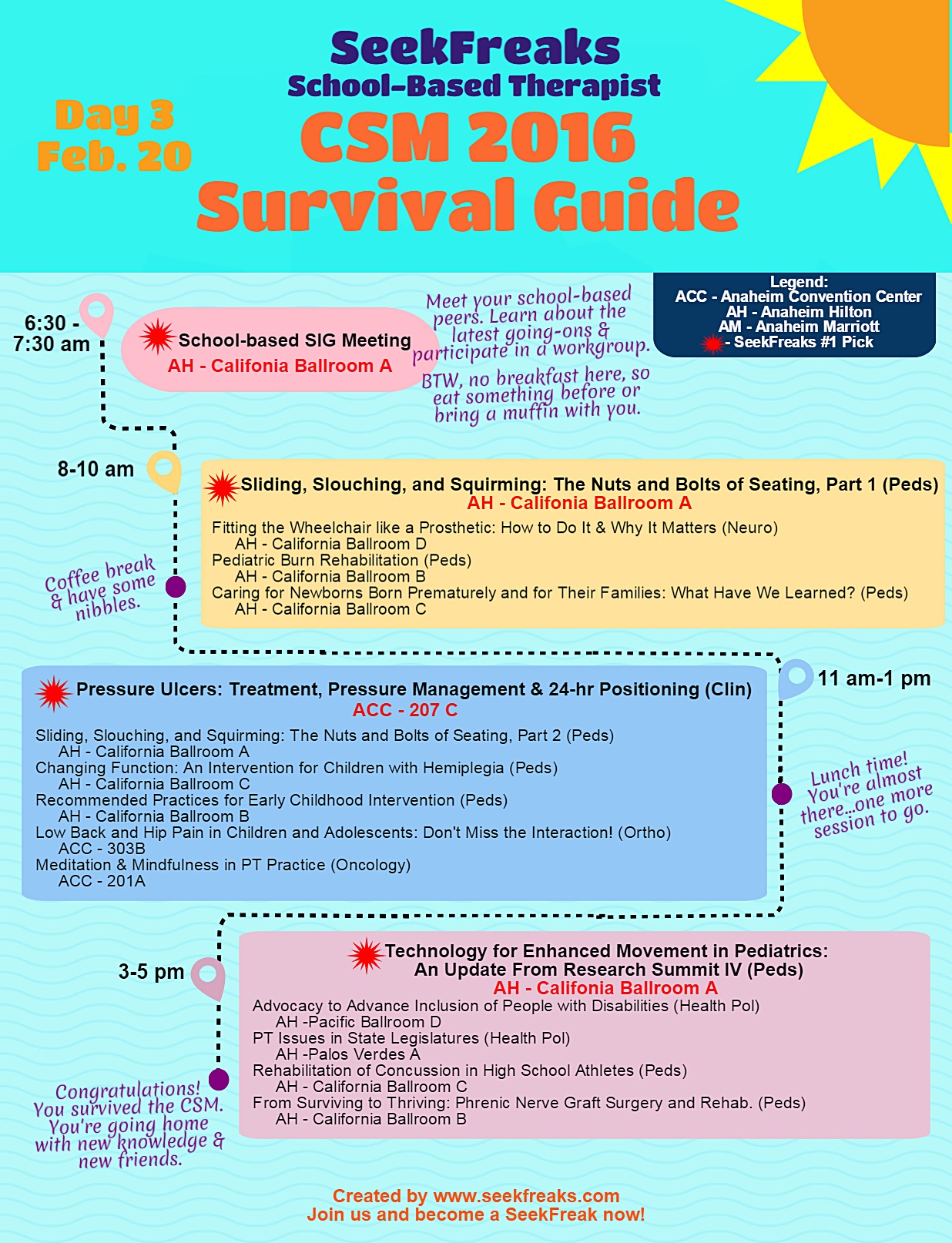 Come back to SeekFreaks and tell us which sessions were worth the time investment, changed your practice or if you left to go buy a $10 coffee and $15 bagel.
So, now your brain is full. Here are some suggestions to fill up your senses and your belly…
Suggested nearby spots:
Long Beach: Tip! East Coasters, don't forget your aqua shoes, these shores are hard on the tenderfoot!
Yorba Regional Park: excellent walking and hiking trails. Walk off all that sitting.
Catalina Island: a boat ride, shopping, island exploring…What more can a PT want?
Angeles National Forest: Inspirational vistas
In-n-Out Burger: Tip! I recommend the Cheeseburger, animal style. Need vegetarian? Make it a grilled cheese (everything except the burger). Avoiding gluten? Ask for protein style (no bun). Require ultimate simplicity? Order a Flying Dutchman (just meat & cheese).
Pinks Hot Dogs: Tip! Eat at 11a or 5p to avoid the lines.
You can explore Downtown Disney without a ticket: Tip! Sit outside, soak in the sun and get the tableside guacamole at Tortilla Jo's (Downtown Disney). You will feel spring renew in your heart!
Safe travel. I hope to see you there, and say hi if you see me!
Follow SeekFreaks on:
Like what you read? Share the SeekFreaking goodness...