Follow SeekFreaks on:
Happy Summer, SeekFreaks! Both SeekFreaks participated in the APTA Academy of Pediatric Physical Therapy's Innovations in School-based Physical Therapy Practice 2017 conference in our nation's capital – Washington, DC, July 14th & 15th. It was awesome!! I'm here to report on lessons that apply to school-based OT, PT and Speech service providers. 
This SeekFreak (Laurie) has been lucky enough to participate in many Innovation conferences and I always come away with fresh perspective, new ideas and a list of things to follow up on, try out and seek! We had 179 pediatric PTs there from across the nation (39 states, the District of Columbia and 3 countries represented!).
It was a super hot couple of days in the city! We were 'runnin' wild and lookin' pretty'! But we were kept alert not only by the dynamic speakers and excellent slate of sessions but also by the nearly arctic temperatures indoors.
This year's conference was ably organized by Dr. Susan Effgen and Marcie Kaminker. It was Marcie's last conference as she is moving on to grandmother-ing and other retirement tasks (gardening, volunteering) which are taking the focus of her energies.
We want to thank Marcie for her service to School-based PT practice! She went out on top with a great Innovations 2017, but will still serve on the conference planning committee to ensure we don't slip up! Also, Irene McEwen has decided to hang up her slide advancer. She has been a draw for this conference for many years. Dr. McEwen ended her run at her best. Many thanks to you Irene!
And now to the programming, I attended Track I this year. There were many tough choices with so many great speakers and tempting topics!
---
Friday 7/14 – Track I (Foundational Topics)
8:30-10a: Providing School-based Physical Therapy under IDEA & Section 504
with Mary Jane Rapport, PT, DPT, PhD, FAPTA
I always learn something new from Mary Jane's session, despite having heard it many times! She reviews IDEA and how it shapes our practice (also check out OTs, PTs & SLPs in the Schools…How did we get here?). Using case law, Mary Jane unpacks how decisions should be made and the court's perspective on educational decisions. 
She also provided examples from several states and DC for regulations and policies and illuminated how interpretation influences actions in our public schools. Things are so variable state to state and even LEA to LEA.
Dr. Rapport also clarifies that Section 504 is not a consolation prize when students are not eligible for Special Education and Related Services. Time went quickly but she was also able to discuss how each state's PT practice act fits into the picture.
School-based practice requires awareness and vigilance in several arenas. I hope to find time to look up case law in my Circuit Court using the resources Dr. Rapport provided! While at Innovations, I keep a list of things I want to do and carry it in my calendar. So if I am waiting for an appointment, I can pull it out and get something done that will move me forward!!
---
10:15-11:45a: Making Decisions about School-Based Physical Therapy Services
 with Irene McEwen, PT, DPT, PhD, FAPTA
One of my professional heroes, Dr. McEwen, took a nuanced look at our practice setting. One point struck me immediately (she even titled it 'Controversial Question'), "What goals are appropriate for children with disabilities under IDEA?"
▶ Answer: "Almost any goals the team decides are high educational priorities for a student."
I agree with that, do you (use the comment section below)? I think we do not rely on the IEP enough. We are so used to opposing, we are afraid to ask anything…Check out some of the suggestions in the Role of School-based Physical Therapy to improve collaboration with your IEP team.
Another gem I carried away from Irene's session was about functional goals. She defined functional goals as anything "someone else will have to do if the child doesn't". That seems a great check to ensure goals I write are meaningful and 'real-life'.
In school practice, we have real situations to intervene in to promote skills. We do not have to 'create' anything. School-based OTs, SLPs and PTs need to take advantage of this and see it as an asset!
---
1-2:30p: Examination, Evaluation & Ecological Assessment
with Sue Cecere, PT, MHS
Sue Cecere made a strong case for the advantages of grounding our evaluations into specific context. Ecological evaluation is when we assess student performance within the environment and context of where the student employs the skill, where s/he functions daily.
In school practice, and perhaps others, an ecological approach affords greater specificity, collaboration and increased focus on function. It can enrich our understanding of how to intervene and collaborate most effectively.
Sue described a top-down approach to evaluation to consider in order to 'begin with the end in mind'. An ecological assessment promotes a student's least restrictive environment and collaboration across the team; it anticipates potential data collection.
This approach just grounds everything that follows in reality. I liked how Sue used the ICF and Guide to PT as frameworks to assist our thinking, to evaluate. She also employed several tools, cases and a practical evaluation template to bring these points home. Great session despite MANY technical glitches (stupid computer connection…).
---
2:45-4:15p: Everything's Measurable! School-based Tests & Measures in 10 Minutes or Less
with Carlo Vialu, PT, MBA
One of very own SeekFreaks was up next, Carlo Vialu did a jam-packed, excellent session on measurement. After a discussion of broad categories and the ICF model to reason through what may be needed, Carlo provided an overview of commonly utilized tools.
He then offered 11 measurement tools that were quick, FREE and provided various data needs at school. I loved the legend he employed to reinforce key aspects to each measure and streamline the information. All the tests required minimal, portable materials (all of which we usually have on hand). This is so important in our itinerant practice.
Carlo did not just review the test, but provided important information about using each measure, reliability, strengths and weaknesses of each. The best part was that each measure was demonstrated within the session! We got to see how it worked, how easy they were and what information you could glean to inform our intervention.
Cases helped to cement the concepts and tests into practice, which boils down to this – use tests to explore the underlying reason for participation restrictions & justify need (or not needing) the services of therapists in the school. Carlo accomplished SO much in 90 minutes. We all walked away with 4 balance tests (check out Top 9 Functional Balance Tests for SBPTs), 4 walking tests (I recognized a few from Top 10 Walking Tests for SBPTs) and 3 wheelchair tests (a few more here=7 Promising Wheelchair Operation Tests for School-based Therapists) ready for use tomorrow. Awesome!
Join Carlo this December in Philadelphia, PA for a 2-day course covering over 60 assessment tools across the different domains of the ICF: Everything's Measurable! ICF-based Approach to Pediatric OT & PT Assessment.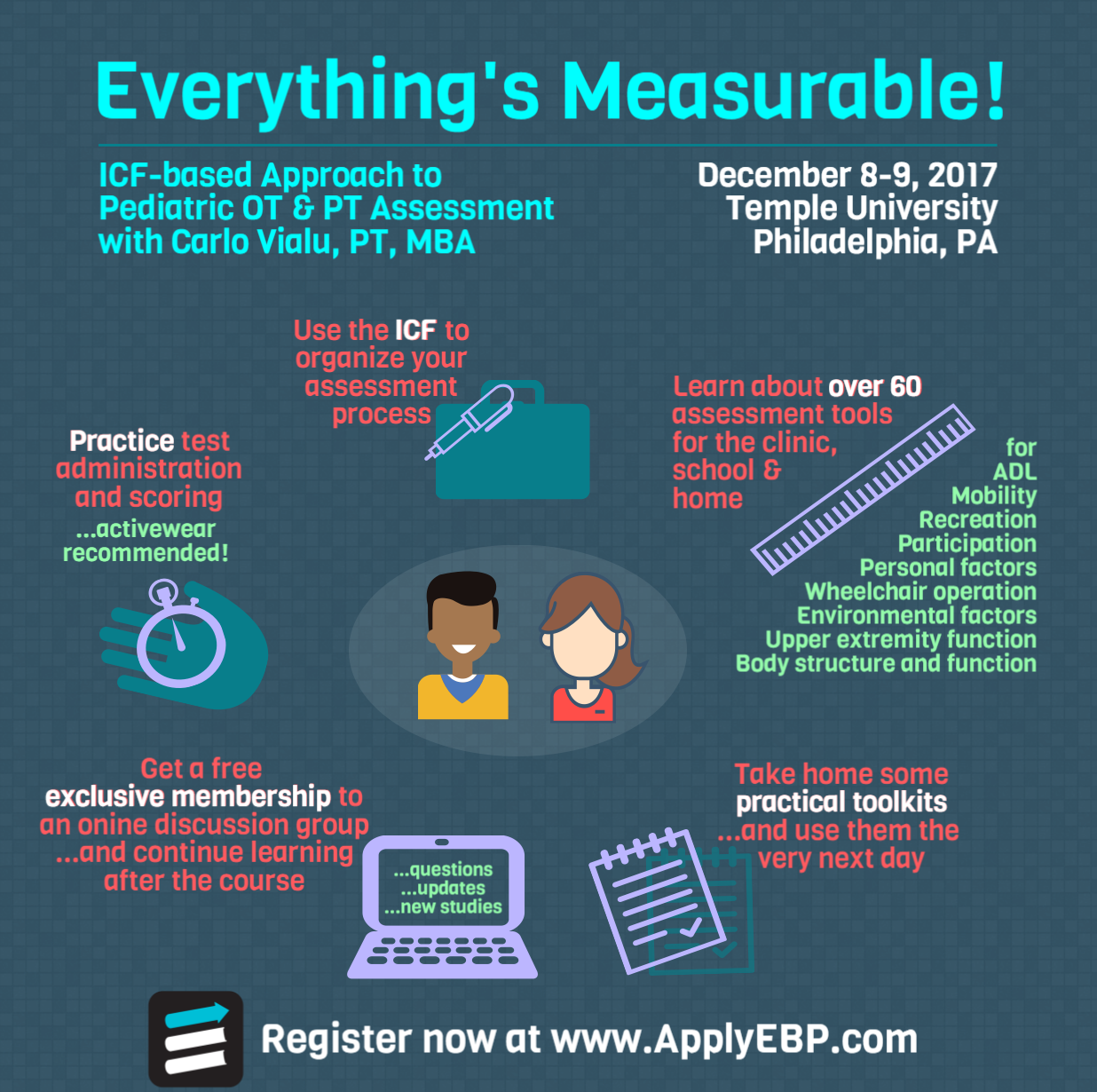 ---
415-5:45p: Integrating Interventions into the School Day
with Karen Tartick, PT, CSCS
Karen concludes Track 1 with great examples on how to integrate services into the school day. Yes, there was the usual suspect, of integrating during recess in the playground. Karen showed how it can fail, but even better, how it can succeed because of, not inspite of, the presence of other students, who serves as models and real accomplices in play – what great natural motivators!
Karen then goes beyond the playground and brings integration into the classroom. Excellent video clips showed her working with a child during circle time, performing transfers with the help of a teacher to motivate the child (- yes help goes both ways!), deciding and implementing a standing program, fostering self-advocacy in real-life classroom situations, utilizing peers with disabilities as models and support for each other, and many more.
I also liked the way she showed how to integrate in Pre-k and K, in elementary school, and YES! in middle and high school – where students often shy away from being seen with us. She gave practical tips on how to foster a collaborative atmosphere that allows a therapist to integrate during class lessons. By being in the classroom all the time, OTs, PTs and SLPs and their activities become part of the natural routine, instead of curiosities that draw unproductive attention.
---
Friday 7/14 – Track II (Contemporary Topics)
I had to make tough choices here and stuck with Track I. However, at lunch and dinner I heard many, excellent comments about these sessions.
8:30-10a Preparing Adolescents & Young Adults for Transition from School to Adulthood

with Toni Doty, PT, PhD, PCS

10:15-11:45a Physical Therapist's Role in Assistive Technology

withMaria Jones, PT, PhD

1:00- 2:30p Bus Seating, Positioning & Evacuation Plans for Students with Special Needs with 

Susan Englert Shutrump, OTR/L

2:45-4:15p Evidence-Based School Practice: Implications from the Literature & PT COUNTS Study with 

Susan Effgen, PT, PhD, FAPTA

4:15-5:45p Promoting Fitness for Students with Disabilities  with

Maggie O'Neil. PT, PhD, MPH
On Friday night, I enjoyed dinner with (most of) the speakers at District Commons. What a great meal!! Our server, who happened to be from North Carolina, was lovely and helpful. The food and company was dazzling. I love being with school therapists, especially with these smart, passionate leaders of our field. We also got to see a group of demonstrators march by, democracy in action!
---
Saturday 7/15 – All together, now!
8:00-11:00a Lifecourse Health Development for Individuals with Neurodevelopmental Conditions
with Bob Palisano, PT, ScD, FAPTA
Bob Palisano is a leader in our profession and I eagerly anticipated his session. He shifted gears and pulled our focus back to a big picture discussion of how our practice in schools can focus on health, 'readiness' for life and developing a 'capacity for health' in the students we serve.
Dr. Palisano suggested a model of lifecourse health development (Halfon N, Larson K, Lu M, Tullis E, Russ S. Lifecourse health development: Past, present and future. Maternal & Child Health Journal 2014; 18:344–65). Take away messages for me were:  
how reliant we are on interactions both between an individual and her/his environment and perhaps, more importantly, socially to develop and be well.

How experience dependent we are to become resilient people who can create a satisfactory life, throughout our lives

Health includes participating in desired social activities and achieving personal goals (LOVE THIS!)
Bob presented indicators of health development for community living and indicators of health capacity for adult employment. He then pointed out how beautifully this work aligns with IDEA's requirement for a post-secondary transition plan! I know, right?
This is what we need to be working on with specific, community-based outcome measure for transition. No more vague exploration goals! We have a lot of work to do here. Then came the idea that I hope shapes my practice moving forward= 'Visualizing a Preferred Future'. We need to visualize our students at 21, after graduation and picture what would we see if everything went well throughout her/his time at school.
This reinforced the top-down evaluation approach (Cecere) and all the collaborative practices emphasized throughout this conference. We need to have a specific life in mind and then work each year to get there. I love this.
We can do this with our teams and then break it down; get specific about what we must accomplish each IEP to get there. He then applied these concepts to school practice using cases and a very interesting discussion (despite it being a VERY large group). An inspirational session.
---
11:15 am-12:45p Data-Driven Practice for School-Based Physical Therapists
with Laurie Ray, PT, PhD
Unfortunately, then it was this SeekFreak that followed…I did my best to provide some practical ways to rely on data throughout the IEP process and use it to ensure the effectiveness of our interventions.
We have to not only collect real, student data from the normal school routine but also employ it by reviewing it collaboratively with the whole team (focus on student and parent) and discuss where we are and what we need to do.
I provided some sample data collection forms which do not rely on the teacher to collect everything (student first, if at all possible). People stuck around despite some super cold temperatures in that room (and following Bob!). I hope to do a SeekFreak post on this topic soon. In the meantime, you can check out 32 Essential OT, PT, SLP Documentation Tools to start gathering data diligently.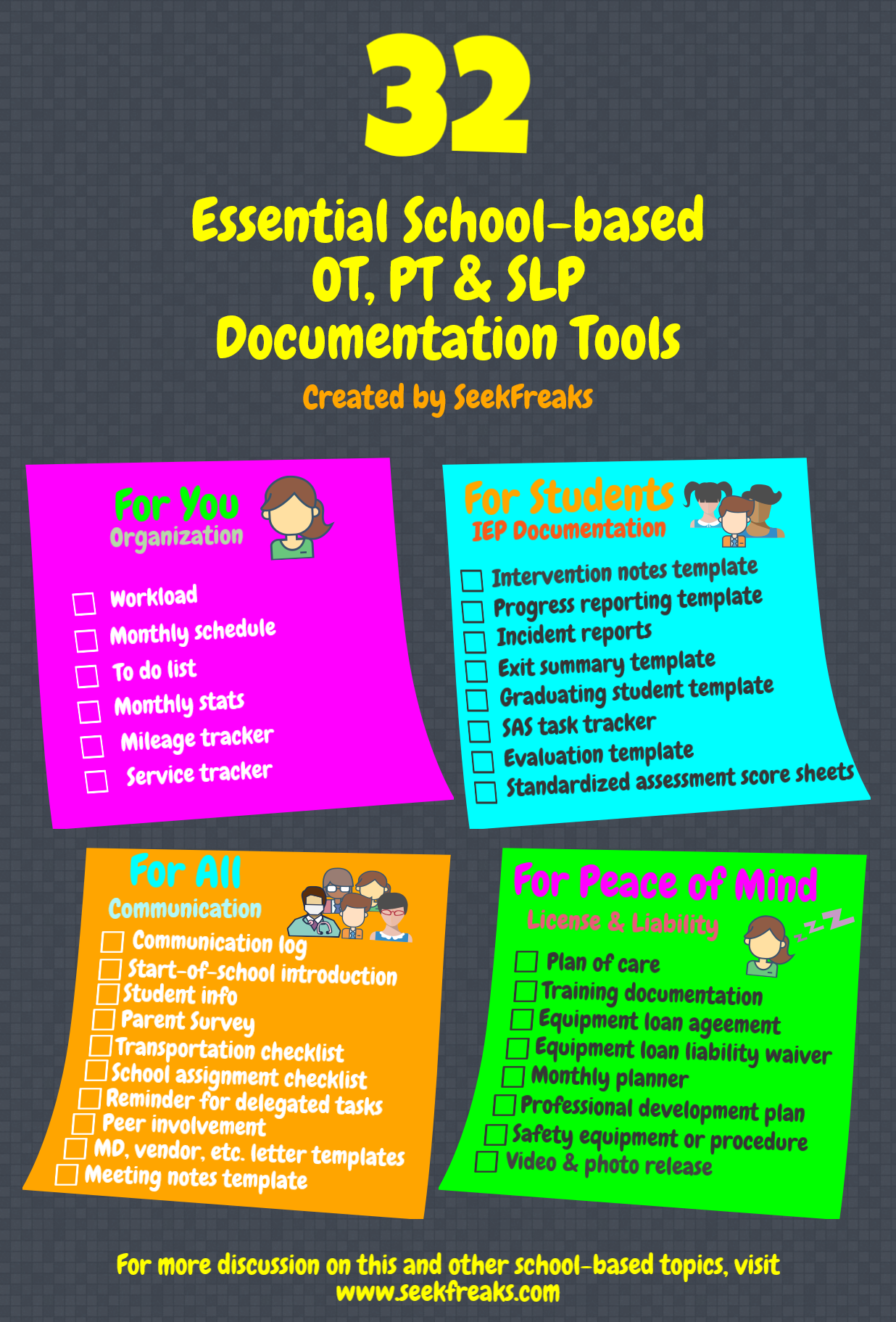 ---
2:00-3:30 pm Evaluation & Intervention for Students with Autism Spectrum Disorder
with Karen Greeley, PT, DScPT & Karen Tartick, PT, CSCS
The next session was provided by a full complement of Karens, both Greeley and Tartick. Their session was focused on working with students on the Autism Spectrum. They provided a shocking overview of Autism Spectrum Disorder. Prevalence has increased dramatically, from 1 out of 166 children in 2000 to 1 out of 68 in 2010. What can it be now?!
Common motor issues were discussed and a thorough and helpful review of the evidence for this population was provided. The Karens did an excellent job applying this information to school practice, reviewing best practices for assessment of students with ASD and providing insights as to how to elicit performance from students with ASD.
I liked how practical the suggestions were to improve our interventions, feedback, instruction and other aspects of intervening, very helpful. Then Karen Tartick shared her experience as a parent of a young man with ASD, REALLY POWERFUL.
She reminded us how emotional it is to parent, how we as school practitioners can judge and miss many opportunities to understand what is happening in these families. I was deeply moved and inspired to infuse my interactions with parent with empathy, not sympathy.
This is our work but it is their child, their world, their complicated everything. How can we remain tender towards the parents and families with whom we work?
If you're in New Orleans or want to visit this January, don't miss Karen Tartick, PT, CSCS course Move, Motivate, Participate! Applying Evidence to Address the Motor Needs of Children with Autism.
---
3:45-5:15p Platform Presentations
These were cool, quick insights into varied aspects of our practice…
Individualized student goals in school-based physical therapy practice with Kimberly Wynarczuk, PT, Lisa Chiarello, PT, PhD, FAPTA; Kathleen Fisher, PhD, CRNP
This study conducted focus groups with PTs from the PT COUNTS study. Four themes emerged that connected how goals shape services:
the nature of services

intervention strategies

teaming

flexibility of services
Three themes emerged indicating how goals impact outcomes:
natural linkages among goals, services, and outcomes

goals impact teaming to achieve outcomes

specifics of the goal matter
Additionally, therapists reported many factors shape services and outcomes (#truethat).
---
What not to say: Tips to increase your confidence and competence in high stakes IEP Meetings with Michele Wiley, PT, DPT, PCS
This platform reinforced that ensuring collaboration and individualization of each IEP can avoid misunderstandings and contention in meetings. She supported her recommendations with excerpts from regulation, court cases, and evidence-based materials.  
---
Guidelines for School-Based Stander with Ginny Paleg, PT, DScPT; Laura Money, PT
A systematic review of the research for standers has been accomplished. The next step is to identify resources and practices currently in place across practice settings. These PTs are going to get it done!
---
Building Trauma Awareness in Your Practice with Jessica Barreca, PT, DPT
This is not what I think of when I think trauma…I think of crush injuries and car crashes. This platform was about trauma, like neglect, abuse and addiction. Children who live with trauma also experience chronic stress. Jessica showed us the evidence that illuminated the impact trauma and chronic stress has on the developing brain, health and academics.
These children have poor health outcomes (both mental and physical health) and poor academic achievement. Jessica made the case that we must be prepared to help these children with adverse childhood experiences (ACEs). High ACE scores are linked to chronic disease and markedly negative impact on physical, social and mental health of these individuals. Are we, as school-based PTs prepared and equipped to serve these students?
---
Using Time Studies to Track Therapist Practice Trends and Develop a Workload Formula with Sue Cecere, PT, MHS
Sue has done a LOT of great work in her district to clarify how our time is invested in public schools. When our public school budgets are horrible and getting worse, we must employ tools to demonstrate our value and our impact on student outcomes. Transparency with time studies and objective, verifiable workload data is our best way to convey this to our administrators. A very practical, helpful way to advocate; I love stealing a great idea! This conference is all about sharing great practices with each other.
---
Update on National Policy Issues  with Justin Moore, PT, DPT, APTA CEO
You know it is important information when folks are still listening at 5:45pm on a Saturday evening! I was very impressed to have the CEO of the APTA come and share what he knows with us. It is comforting to know Justin is in DC advocating for us all. He did not have very many specifics, as DC is in constant movement (turmoil?) and while APTA is working to deep relationship with legislators and speak into law as it is developed; not much is actually happening in terms of IDEA re-authorization.
Justin did provide insight into the health care discussion, potential legislation and key players positions. I feel better about my APTA dues, knowing that some are allocated to Justin and federal advocacy on our behalf.
---
I then gathered a group of stalwarts for dinner at Founding Fathers. Another amazing meal with great friends. It is hard to part from these colleagues I admire so much! But it was time for this 'hot child in the city' to take her gritty neck back home, until Innovations 2018…
Lots of great information imperative to school practice! I always eagerly look forward to any face-to-face time with school-based SeekFreaks. Innovations feels like summer camp to me and it is always over too soon.
I am thawed out, rehydrated and ready for next year's Innovations! It is looking like it is coming back west…maybe Oregon? We'll let you know as soon as we know! How many SeekFreaks are heading to Cincinnati for APPTAC? Use the comment section to let us know if you plan to attend and if you would like to have a SeekFreak gathering? Conversation and Cocktails in Cincinnati (APPTAC)? Or Noshing and Networking in New Orleans (CSM)? Who is in??
If you attended Innovations 2017, immediately go to the SeekFreaks comment section and tell us your favorite session, which sessions were worth the time investment, changed your practice or you disagreed with the content or perspective presented! If you did not attend, go to the comment section and let us know what topic or content you would like to see covered. What say you, SeekFreaks?
Follow SeekFreaks on:
Like what you read? Share the SeekFreaking goodness...