We know that standing is a vital part of a comprehensive whole-body surveillance program. There is emerging evidence that a standing program can lead to:
maintaining or improving range of motion (1,2)
improving bone mineral density (1,2)
promoting hip stability (2,3)
decreasing hypertonicity (1)
These effects can impact secondary complications such as contracture, windswept deformity, need for orthopedic surgery, hip dislocation, scoliosis, and pain.
Standers in the Classroom
While research in use of standers in the classroom is limited, we propose some potential inclusive use of standers to promote activity and particiption:
Placing the student in a stander during activities that require standing so that the student is at the right position and location (i.e, at eye level with their peers) to learn and interact.
Tabletop activities and use of communication device via the use of a tray
Using a wheeled dynamic stander as a mobility device within the classroom, gym or other school areas
Feeding/tube feeding while in upright position, when deemed appropriate by therapist/medical provider
Other ideas? Comment below.
For those working in home care, similar ideas can be applied at home to promote functional use of standers within the family's daily routine.
Choosing a Stander Guide
We all know by now that prolonged sitting is a health risk. Let's embrace standing for everybody! To this end, we have put together these graphics to help school and home teams/providers choose standers (and accessories) to support their goals and integrate healthy positioning into the child's daily routine. Hope you find them useful!
Click here to download the full infographic – best printed out on Legal Paper in Landscape format.
---
FYI: The American Physical Therapy Association (APTA) has a process for Clinical Guidelines, and we are creating one for the use of standing devices in the classroom. We'll let you know as soon as it is approved and published.
---
Guest Contributors
Ginny Paleg is an early intervention physical therapist using coaching, natural environments and routines. She is GMA and HINE certified. She teaches has published frequently and CEU classes around the world .
Laura Money is a physical therapist with experience with children and youth 0-21 years of age in both public and private schools, home health and private practice. She graduated from University of Maryland in 1988.
---
References
(1) Glickman, L. B., Geigle, P. R., & Paleg, G. S. (2010). A systematic review of supported standing programs. Journal of pediatric rehabilitation medicine, 3(3), 197-213.
(2) Paleg, G. S., Smith, B. A., & Glickman, L. B. (2013). Systematic review and evidence-based clinical recommendations for dosing of pediatric supported standing programs. Pediatric Physical Therapy, 25(3), 232-247.
(3) Macias-Merlo, L., Bagur-Calafat, C., Girabent-Farrés, M., & A. Stuberg, W. (2016). Effects of the standing program with hip abduction on hip acetabular development in children with spastic diplegia cerebral palsy. Disability and rehabilitation, 38(11), 1075-1081.
---
Catch SeekFreak Carlo Vialu for Everything's Measurable! in LA (April 14-15) or Chicago (April 26-27). Take advantage of the February Specials!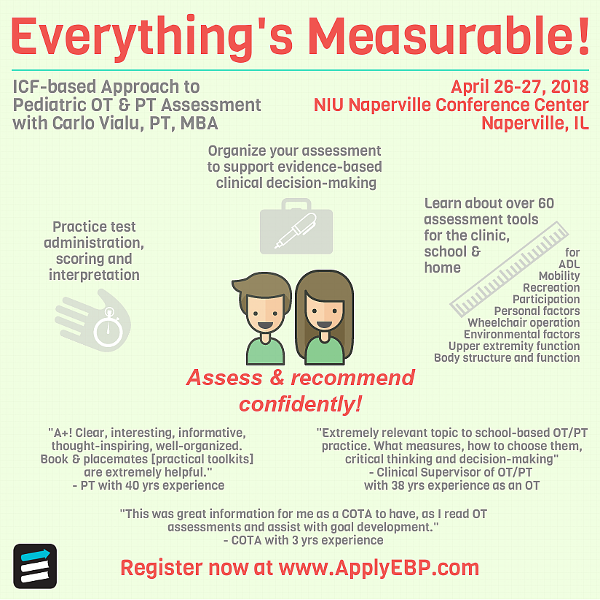 Follow SeekFreaks on:
Like what you read? Share the SeekFreaking goodness...