Follow SeekFreaks on:
The clinical practice guideline for developmental coordination disorder (DCD) created by the European Academy of Childhood Disability (EACD) has been helpful in synthesizing research on DCD from diagnosis to interventions. Reading it, however, takes a lot of grit. We thought it would be a fun challenge to give it a SeekFreaks treatment – interpreting the EACD guideline via infographics. So, welcome to our first mostly infographic article!
We are thinking of 2 uses for this infographic. First, to get you interested on the topics contained in the guideline and hone in on the parts that you find most intriguing. This means we still encourage you to read the whole guideline. Second, after you have read the guideline, you can use the infographic as a quick reference for the future. 
The first 5 lessons pertain to assessment and determination of a DCD diagnosis, while the last 5 focus on lessons about interventions. While the actual determination of a diagnosis occur mostly in a medical setting, the diagnostic information provided by the infographic is still important for school-based therapists since many manifestations of DCD are observable in the school such as the difficulties in handwriting and other tabletop activities, participating in leisure and play, and prevocational activities.
Another notable issue with DCD is the high presence of comorbidities. Such comorbidities, as well as personal factors of lack of motivation, fear of participation and low self-efficacy, among others, should be addressed accordingly; otherwise, progress in improving motor skills utilizing "physical interventions" may not occur. As such, these comorbidities and personal factors will need to be addressed. For more readings on interventions for children with DCD, I suggest the book Children with Developmental Coordination Disorder edited by David Sugden and Mary Chambers, and the compilation of articles by Anuschka S. Niemeijer.

---
Want to learn an evidence-based intervention for children with DCD?
Join Bouwien Smits-Engelsman for her Neuromotor Task Training courses: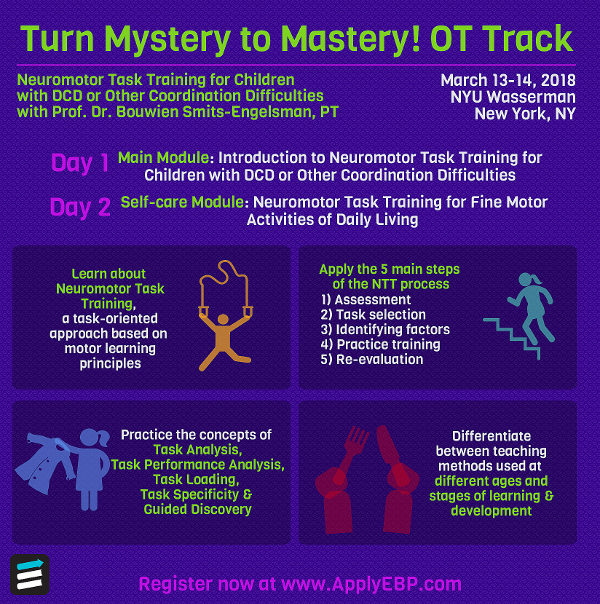 ---
Readers of this article also read:
Article Review: A Service Delivery Model for Children with DCD
Top 9 Functional Balance Tests for School-based PTs
IEP 4.0 – Collaborative Progress Monitoring
Article Review: Can Online Modules Improve the Practice of Therapists?
Follow SeekFreaks on:
Like what you read? Share the SeekFreaking goodness...